Questions
1. Prior to being known as CMLL, what acronym was the company known by?
2. Who teamed with the Motor City Machine Guns against Los Guerreros Negro at the 2008 Anniversary show?
3. CMLL owns its own venue in which it runs many of their main shows within. What is it called?
4. Who lost their mask in the main event of the 2001 68th Anniversary Show?
5. What year was the first FantasticaMania, CMLL's joint shows with NJPW?
6. Which CMLL star's mask is this?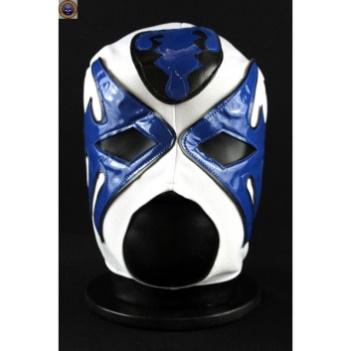 7. Leyenda de Plata is a near annual tournament ran by CMLL. Which of these four hasn't won the tournament? Volador Jr./Rush/El Felino/Scorpio Jr.
8. En Busca de un Idolo is a relatively new tournament for rookies of the promotion. Who won the inaugural tournament in 2012?
9. Who was the founder of CMLL?
10. Who did Ultimo Guerrero defeat in his first mask vs. mask match in 1998?
11. Who were the original three members of famous CMLL trio Los Infernales?
12. Name either of the participants of the 1991 Jucio Finale main event.
13. Who did El Supremo beat in the Mask vs. Mask main event of the 52nd Anniversary Show in 1985?
14. In 533 days as CMLL World Heavyweight Champion, Dos Caras Jr. defended the title on how many occasions? If nobody gets it right then closest wins.
15. CMLL is the oldest surviving professional wrestling company in the world. What year was it founded?
16. What was famous CMLL luchador El Santo's cause of death?
17. What does CMLL call their Friday shows?
18. Who won the 2007 Sin Piedad Lucha de Apuestas main event? Lizmark Jr. & Shocker/Black Warrior & Rey Bucanero
19. What is the better known name of current CMLL wrestler who once went under the title El Hijo del Pirata Morgan?
20. Which wrestler has had the most reigns with the belt currently known as the CMLL World Lightweight Championship?
CMLL Luchador Atlantis has taken the masks of an astounding sixteen opponents. List them.